Introduction
In the fall the Texas weather starts to get nicer and you may want to take the whole family on a camping trip. San Antonio, TX is known for its beautiful scenery and great camping options. If you are looking for the best camping near San Antonio, Texas we have compiled this list.
We've done all the work for you. Check out our list below and start planning your next adventure today! The following campsites are all within a 2-hour driving distance from San Antonio.
Click on the title of each location to visit their website, get more info and check availability and prices.
Top-Reasons Why San Antonio is Great for Camping
1) There are so many different types of camping available. No matter what you may be looking for. Everything from RV parks with full hookups to primitive sites, to luxury treehouses there's an option for everyone.
2) Luxuries of home-style camping. Head out into the Hill Country region where there are plenty of options at state parks and rustic family cabins to rent.
3) Year-round Camping. With a combination of comfortable temperatures and scenic views, you're sure to find something you love.
4) Close to the city and attractions. The San Antonio River Walk is well-known throughout the city, but did you know that it's also home to some fantastic campsites? You can enjoy nature without ever leaving the city with tubing, hiking, and biking.
Pro Tip: Use Campground Views.com to Save Time and Money
The Greater San Antonio, TX area is surrounded by many wonderful opportunities for families and friends to camp. The opportunities are too vast a list.
Use this website, CampgroundViews.com, to find your next camping adventure in the San Antonio area. Refine your search by the San Antonio region, find an RV resort or tent site, or find a place that is pet-friendly with a dog park. The search possibilities are endless.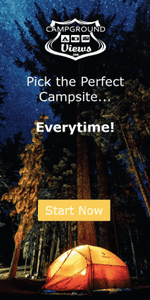 You can take a virtual tour of campsites online. You can also check rates, availability and book directly from the site. It's a great tool to save you time and money. A secret weapon if you will.
Best Campgrounds
Medina River RV Park and is the perfect spot for anyone who wants to enjoy nature without giving up all the comforts of home. The large lots provide plenty of space to stretch out and get comfortable. The close proximity to the Medina River makes it easy to enjoy a day fishing, boating, water sports, and kayaking
Plus, the community park offers a great place to relax by the water. The park has a variety of options from primitive to luxury, you're sure to find something that suits every outdoor living enthusiast's needs.
Spend your days outside exploring or hit the swimming holes just a few feet away from your campsite.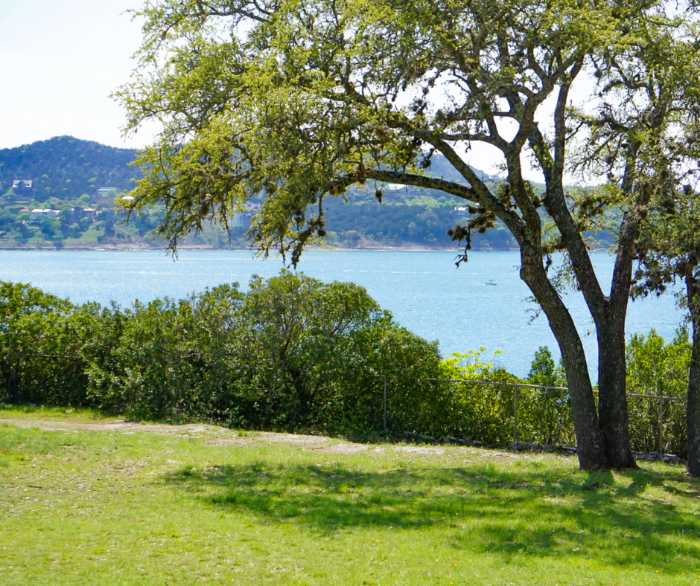 Mystic Quarry is located in Canyon Lake, TX. They believe that the good life should be accessible to everyone. That's why they have created a unique glamping destination with tiny homes and dog-friendly cabins that are stylish and modern, while still retaining a rustic charm.
With large oak trees for shade, acres of pristine woodland grounds to explore, and first-rate amenities like Wi-Fi and conference facilities, Mystic Quarry is the perfect place to reconnect with nature and escape the hustle and bustle of city life.
They also have a pool, bocce courts, horseshoe pits, and other recreational activities on-site. You can also rent a tube and use their shuttle service to access the Guadalupe River "put-in."
Between March and September, they also have their " Music Under the Stars" concert series. Hear some really great performers right there at the campsite.
Staying at Mystic Quarry is a special experience. It's not hard to see why this place has been voted the best campground in Texas by campers. The grounds are beautiful, with scenic views of the lake, wildlife everywhere.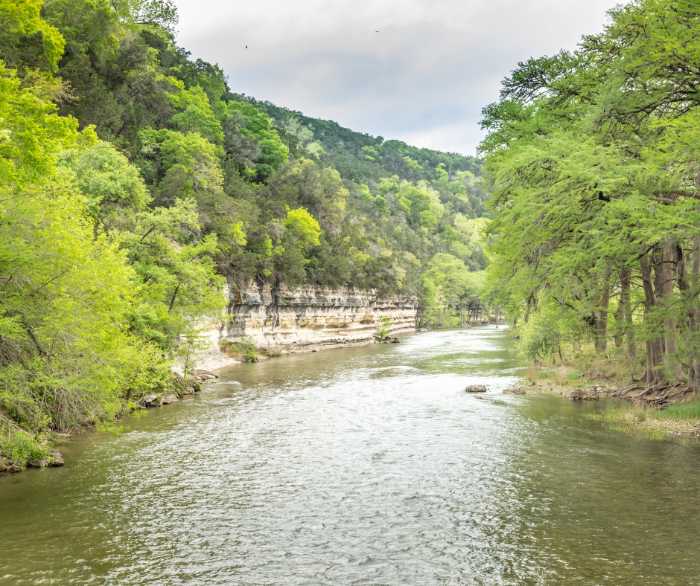 Mountain Breeze Campground is in New Braunsfels, Texas, and is about an hour from San Antonio. It offers prime access to the Guadalupe River and all of its beauty. Their campground is packed with amenities like showers, bathrooms, as well as sand volleyball and horseshoe pits.
Whether you're looking for an action-packed getaway or a peaceful spot to relax by the river, they have got you covered!
They have some really nice cabins that can accommodate 2-6 people depending on your needs. They have spots for tent camping and RVs available. Campfires are allowed within the designated fire ring of each campsite.
These fees do not include your tube rentals for the river but they do have a free shuttle service for their patrons. On Saturday nights in the summer they have a DJ or live music.
If you are looking for family fun then do not go on a holiday weekend, it gets rowdy. On normal weekends and summer days, the place is quite nice for families.
As an added bonus, New Braunsfels is in the heart of the Texas Hill Country and is within driving distance to San Antonio, Austin, and Wine Country.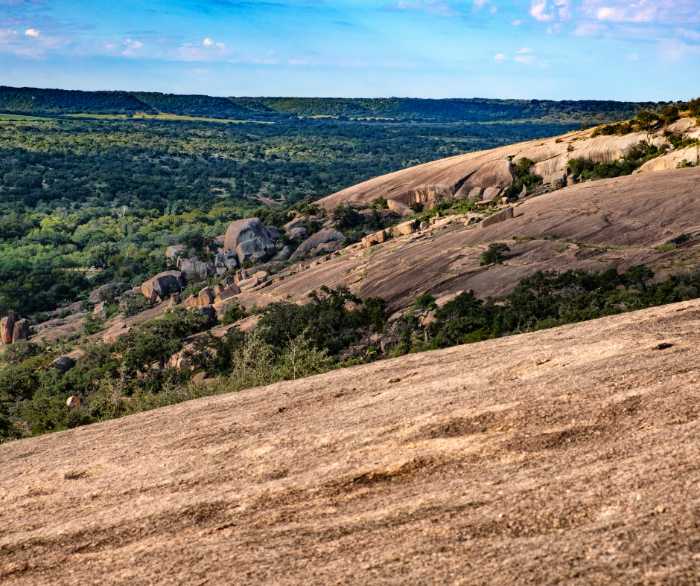 Staying overnight at Enchanted Rock campgrounds is a unique experience. This beautiful park is Fredericksburg, Texas just 70 miles from San Antonio.
It is known for the spectacular views of the surrounding Hill Country and for stargazing. The campground features 244 campsites on 13 acres with easy access to hiking areas, ride a bike, fish kayaks.
The campgrounds have been designed to minimize light pollution from nearby homes or businesses so that stargazing can be enjoyed by visitors who are lucky enough to visit during a new moon phase. In fact, this location has been designated as an International Dark Sky Park because it offers exceptional stargazing opportunities without any interference from man-made lights.
Enchanted Rock is designated as one of the best places to stargaze in the Lone Star State. You can read more about it here in our full-length article "Best Places for Stargazing in Texas."
Enchanted Rock also provides a variety of campsites. The CCC-built bathhouse has flush toilets, hot showers, and firewood is available for purchase at the park.
They have a primitive campsite that can accommodate up to 25 people each. One area has eight picnic tables, grills, a vaulted toilet, and ground fires are allowed in the park.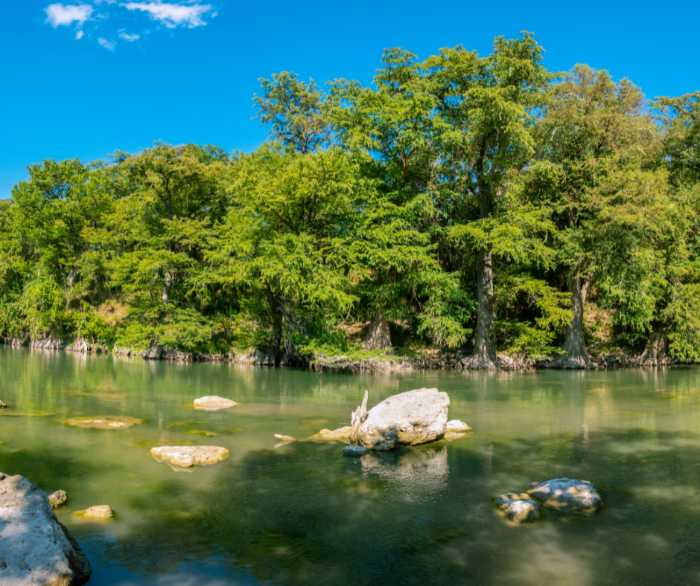 Guadalupe River State Park is located in Spring Branch, Texas just 40 miles from San Antonio. It is a great place for family and friends to get together. It is about 40 miles from San Antonio. It's perfect for families who want to stay close by or even just take their boat out and enjoy the water.
The campsites are large enough to fit RV's, tents, and trailers. There are also fire rings at each site so you can cook over an open flame if you prefer that method of cooking or just enjoy sitting around a campfire with your friends.
Guadalupe River State Park offers ample opportunities for kayaking and canoeing, as well as hiking and biking. There are over 13 miles of hiking to choose from, you're sure to find the perfect route for you. And if you're looking for a scenic spot to take in the river views, be sure to check out the River Overlook Trail.
Make Sure you head next door to Honey Creek Natural Area for a guided tour of some beautiful nature trails.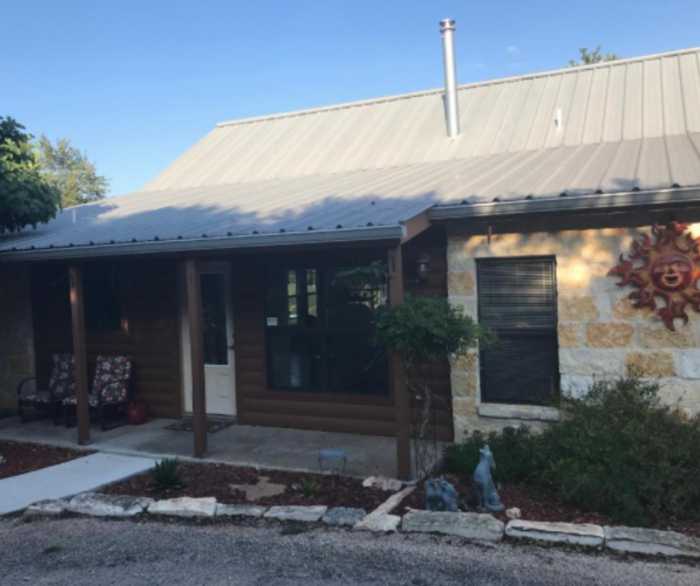 Looking for a place to stay in Fredericksburg that offers all the comforts of home? Look no further than Walnut Canyon Cabins! Our air-conditioned guest accommodations come equipped with a seating area, flat-screen TV, DVD player, fully equipped kitchen, and private bathroom.
Relax on our terrace, enjoy a delicious breakfast at our bed and breakfast, or take advantage of our business center and laundry facilities. We're sure you'll love your stay at Walnut Canyon Cabins! Check their availability here.
This place gets a 9.6 out of 10 on Booking.com. We stayed here in the Summer of 2021 and we loved it. Walnut Canyon was listed as one of the "Best 35 Cabins in The Hill Country for families. You can read our full article here.
Geronimo Creek Retreat is located in Seguin, Texas, just 30 minutes outside San Antonio! This beautiful piece of property is located in the heart of nature and offers everything you need to escape the hustle and bustle of everyday life.
This is a very unique and luxurious camping experience. They have beautiful cabins, teepees, and treehouse that can accommodate just about anyone. The creek is an all-natural spring-fed body of water that stays around 70 degrees.
Whether you're looking to relax by the water or take advantage of all the activities this area has to offer, Geronimo Creek Retreat is the perfect place to call home. So come on over and experience all that nature has to offer!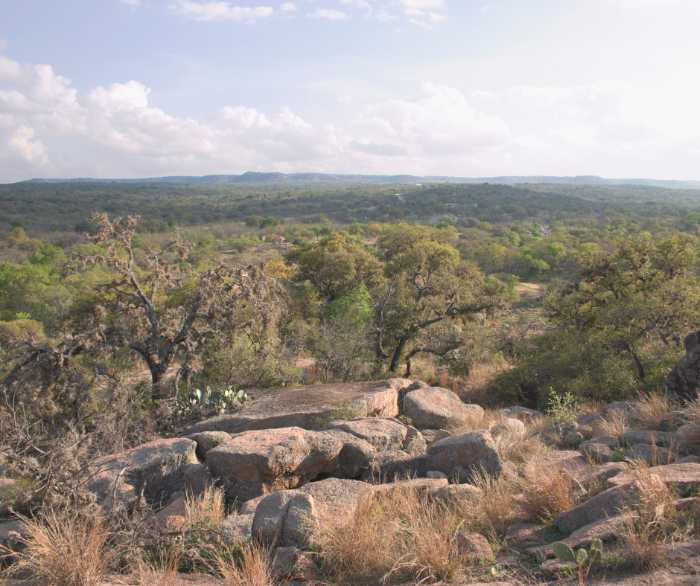 You can do many things at Hill Country State Natural Area that will satisfy your need for adventure! If you love hunting as much as you enjoy being outdoors, this is an excellent place for you! With more than 2,000 acres that span 30 miles from San Marcos all the way to New Braunfels, there are many opportunities for hunters.
There is currently no cost associated with hunting at Hill Country State Natural Area. All deer season dates and bag limits must be approved by Parks and Wildlife before the season starts.
This is true primitive camping as it's best. You have to bring all of your own supplies including your own drinking water. It is just you and mother nature. But this natural area is pristine and has to be seen.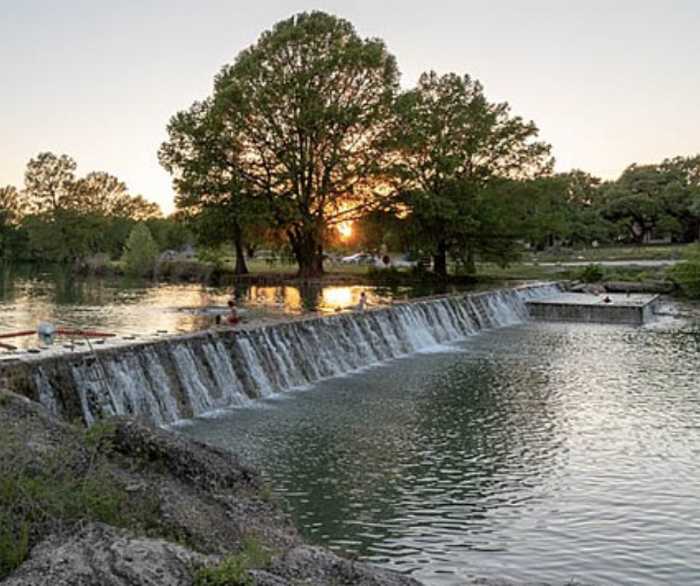 Looking for a place to have some fun in the sun? Blanco State Park is just the spot! It is about an hour from San Antonio.
It has picnic areas, swimming holes, fishing spots, and campsites. The campsites at Blanco State Park are pretty basic. Each site has a water/electric hookup, picnic table, fire ring, and covered pavilion.
But the real value of camping at Blanco State Park is the water recreation that you get to do during the day. Get ready for a day of river fun when you stay here.
If you would like to see more amazing camping options in the Texas Hill Country check out our article "The Best Camping in Austin, Texas."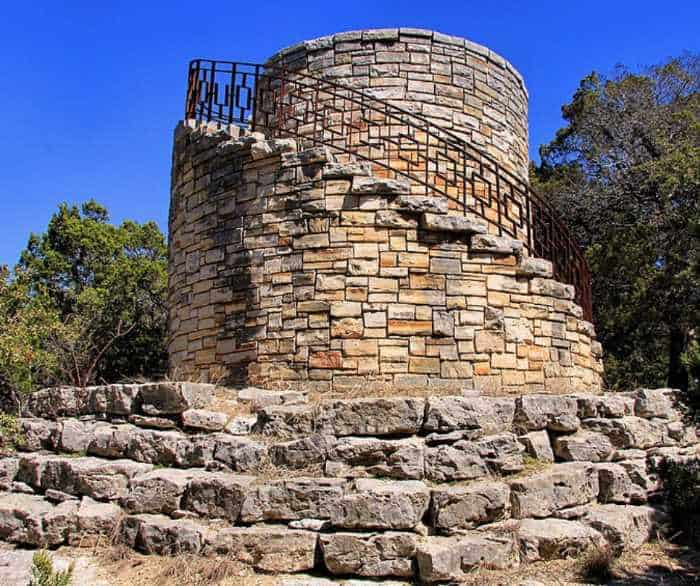 Mother Neff Park is a beautiful place to camp, hike, and explore. The park has six different sites with varying amenities, including waterfalls, hiking trails, and cabins for those who prefer more luxury.
There are plenty of fun things to do in the area, from Barton Springs just a short drive away to Lake Buchanan near Burnet, which offers fishing, swimming, and boating opportunities! Tent sites are also available for those looking for a more rustic experience.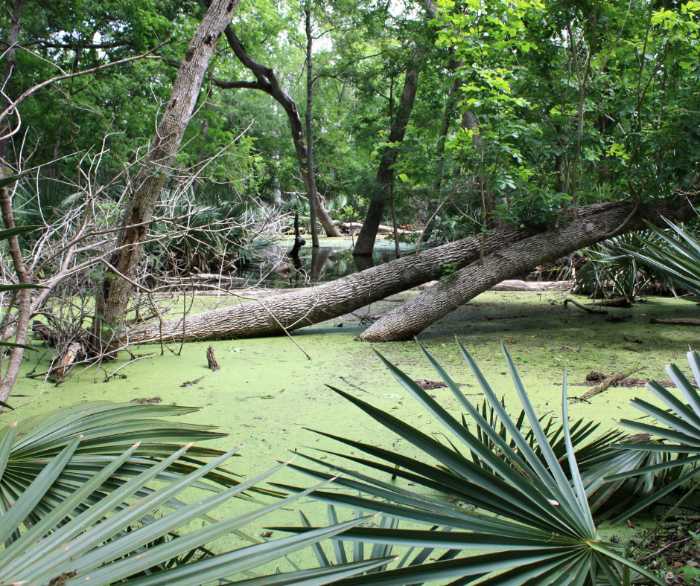 There are many things to do at Palmetto State Park. If you're looking for a budget-friendly experience, then this is the place for you! There are tent sites with water and electricity hookups available for rent.
Or if you prefer an R.V. space or cabin, there are plenty of options here too! You can also enjoy all that this park offers by taking advantage of the nature trails and scenic views. Whether it's your first time camping or not, Palmetto State Park offers something that will suit your needs.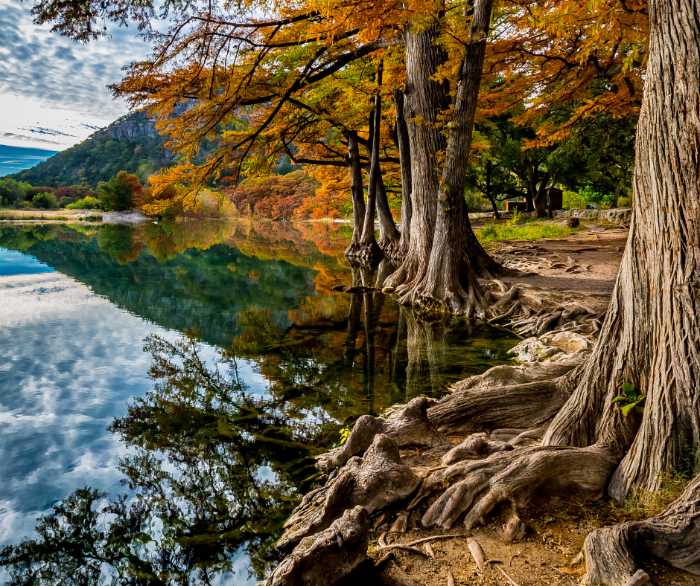 Garner State Park is one of the most popular places to go camping. It is a little over an hour and a half from San Antonio.
It offers recreational activities like fishing and swimming at Lake Wilson, bird watching, hiking trails, and picnicking. And it's budget-friendly!
The park has an RV park with hookups for campers with R.V.s who want a more comfortable stay. There are also tent sites available for those who prefer to sleep out under the stars. For kids, there are playgrounds and nature activities galore!
One of our favorites is feeding deer by the lake on Saturday mornings throughout the summer months. If you love being in the great outdoors but crave some creature comforts sometimes, this is the place for you.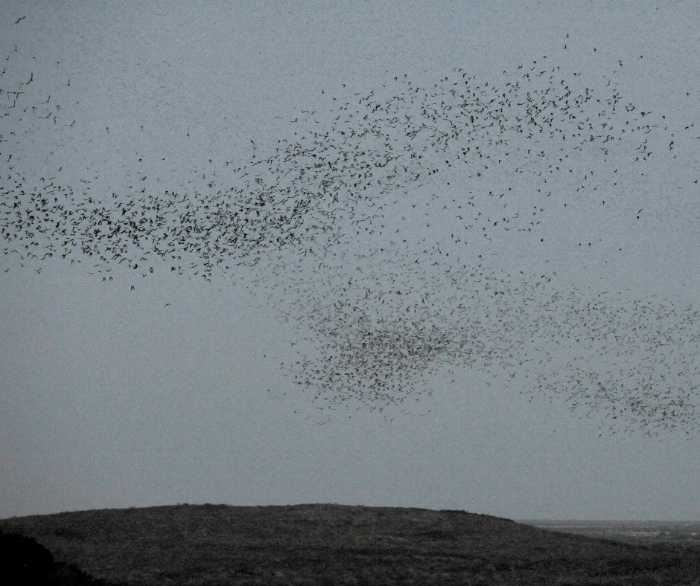 There are many places to camp in Central Texas, but Devil's Sinkhole State Natural Area is unique. Located just 2 hours west of San Antonio, TX. The sinkhole is a geological marvel formed when an underground river collapsed and created this giant crater.
It's not just the sinkhole that makes this park so unique, though – there are also tons of other things to do! There are trails for biking, birding opportunities, waterfalls to explore, RV sites or tent sites available, and more!
So whether you're looking for a budget-friendly camping experience or someplace with all of the amenities, Devils Sinkhole State Natural Area has something for everyone.
Government Canyon State Natural Area is a picturesque place to go camping in San Antonio. The lush vegetation, including live oaks, cedar elms, yaupon holly, and Texas persimmons, help distinguish this area from other Texan state parks.
The creek's scenic views that run through the valley and prehistoric rock art sites can be found throughout the park. Government Canyon State Natural Area campsites are tucked away under the trees. I didn't see any RV sites on the grounds, just tent camping.
Restrooms located within walking distance of each campsite provide running potable water. There is even a playground for the kids but they will probably be more interested in the real Dinosaur track on the grounds.
If you're looking to practice your outdoor skills like camping, trails for walking, fishing, or hunting in beautiful natural surroundings, check out their availability on their website here.
Are you looking for a specific RV park? Try looking here on CampgroundViews.com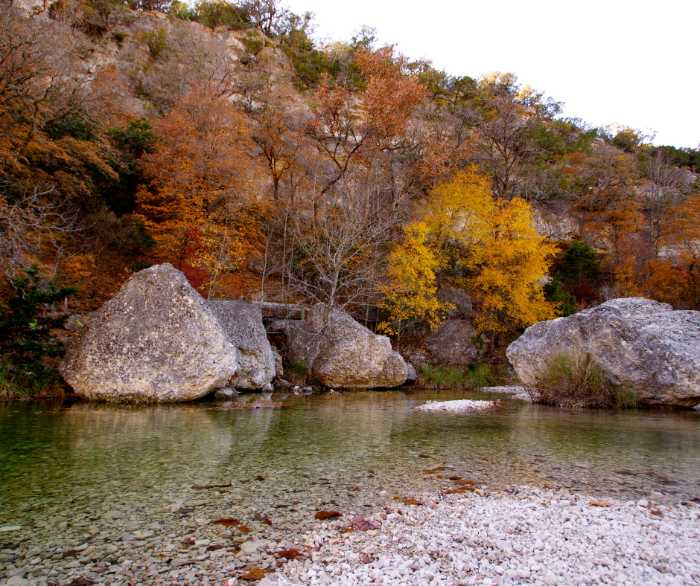 The Lost Maples Natural Area is a United States National Forest in the Texas Hill Country 90 miles west of San Antonio, TX.
The area has been called "the most beautiful spot in Texas" by writers like Roy Bedichek, author of Adventures with a Texas Naturalist.
Lost Maples is a very basic, budget-friendly camping experience with easy access to waterfalls and trails, this is an excellent option! There are also cabins, RV sites, and tent sites available, so there's something for everyone.
The upside is the beautiful foliage that the park possesses. If you camp here in the fall you will experience the leaves changing colors like nowhere else in Texas.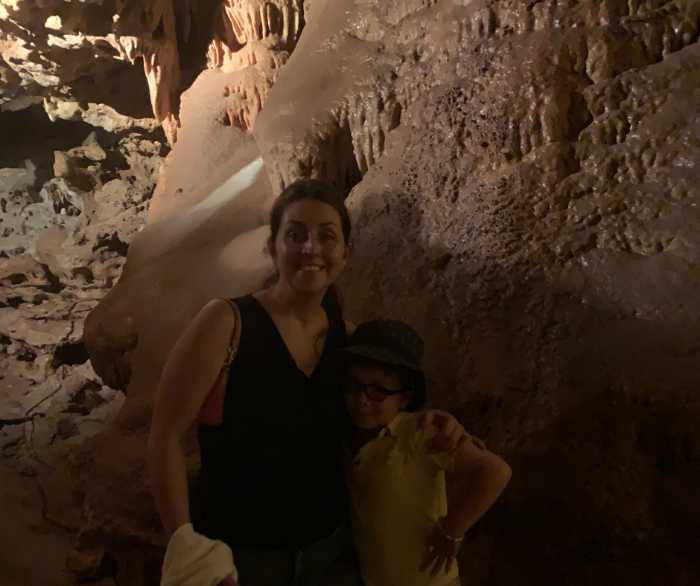 Kickapoo Cavern State Area is an excellent place to camp. It's one of the best state parks for camping in Central Texas. This area has an RV park, tent camping, and cabins,
You can also go for a hike or swim at Kickapoo Caverns, a waterfall and natural pool. The park offers many other activities like rock climbing, horseback riding, and mountain biking!
Whether you're looking for an easy-to-access budget-friendly camping experience or someplace with all of the amenities, Kickapoo Cavern has many options that will suit your needs!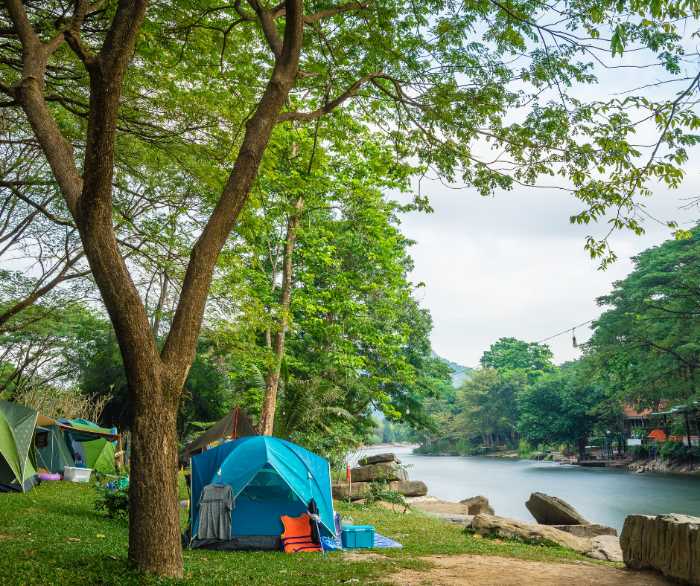 If you are looking for a family camping area near San Antonio, you have to check out Camp Huaco Springs. The property is centrally located between San Antonio and Austin, so you can take a day trip in any direction with many wonderful things to do.
Camp Huaco Springs has RV sites, primitive camping, and cabins available – so no matter what kind of camping experience you're looking for, we've got you covered.
All camping areas are next to the river for easy access. There is even a beautiful, spring-fed pool for the kids. You will want to make reservations and check water levels before you arrive.
Check availability on their website here.
Conclusion
So if you're looking for the best camping near SAn Antonio, Texas, the Alamo City has plenty of spots where you can enjoy your time off exploring nature with family or friends.
Which campgrounds in San Antonio, TX do you plan on visiting? Let us know below! If all these reasons aren't enough to convince you, just think about how simple it will be to book campsites near downtown so that you don't have any trouble getting back into town after an evening spent tubing on the riverwalk.